We may earn money or products from the companies mentioned in this post.

3D Printing For…Houses, Yes It's a Thing
     Building a house is a major undertaking. Most traditional houses take between three and twelve months to complete. This depends on whether they need an original or custom design too. (And if you're building your own house, you'd better not miss the opportunity to customize it!) They're expensive as well: depending on your state or size of house, on average, you could spend over $400,000 to build. How much is a 3D printed home? It is definitely less comparatively. Constructing the average 2-bedroom house also generates 80 tons of carbon dioxide. If you care about global resources, you'll want to budget for some carbon offsets, too! But what if we could use technology to create a comfortable house faster and for less money? And what if it used fewer resources than even the most conscientious building? That's where 3D printing comes in! This modern technique is already putting a new spin on the age-old art of building a home. It might revolutionize home ownership. It's already changing the way people think about our relationship with our houses.  
What Is 3D Printing?
     If you're new to the concept of 3D printing, don't worry! You're not alone. This interesting technology has only recently arrived on the consumer scene. To visualize 3D printing, imagine a regular printer creating a flat image of a blueprint. Then, imagine that the printer could add another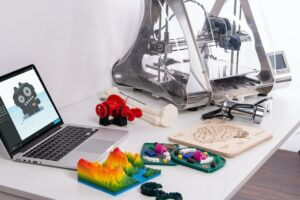 layer of height by printing on top of the previous lines. Imagine that it keeps doing this until it's built up a perfect house, real and tangible and ready to use.
     Believe it or not, the idea of 3D printing is over 75 years old. (Like many great ideas, it originated in a science fiction story.) By 1971, engineers were making product prototypes using machines that extruded wax. It wasn't perfect, but it led to consumer 3D printers like the Makerbot and a thriving 3D printing fan community.
     Now giant versions of these printers are building homes that people really live in. The house printing movement is new, but already, it's making waves. Instead of plastic, 3D house printers use a kind of composite cement that's mixed on-site. They extrude it through a nozzle that's mounted to a giant metal scaffold. Between layers of cement, workers on-site may add rebar, or iron bars. This helps support the structure from within. The cement hardens in a few hours, creating thick, sturdy walls with a natural look and feel.
Why 3D-Printed Houses Make Sense
     This is a good moment for 3D-printed houses. Due to a variety of factors, this newfangled way to make a home is starting to sound good to a lot of people. For one thing, it could help solve the problem of where everyone in America is supposed to live. How much is a 3d printed home? In July of 2022, the average price of a house in the U.S. was over $425,000. That's way out of reach for most families. Coupled with a steep rise in rents, this has led to a housing crisis. People who used to be able to afford to save are now struggling just to make their monthly home payments. Printing houses could help address this situation by providing more housing – fast! The house printing company Icon estimates that they can print a 500-square-foot house in about 24 hours.
     The cost of printing a house is also modest compared to traditional home prices. That 500-square-foot home by Icon costs at most $5000 to print. Larger 4-bedroom houses might cost $50,000. That's no small investment, but compared to average home prices near major cities, it's a steal! Part of the reason that 3D-printed homes are so cheap is that they don't need a ton of skilled labor. An average house may call for dozens of construction experts. A 3D-printed home needs only a few print operators who know what they're doing. After that, a handful of plumbers and electricians can finish the job.
     Finally, printing a house may be better for the environment than constructing one. Normal cement building processes generate a lot of carbon emissions. Printing with cement can be 60% greener. On top of that, it eliminates a lot of waste and shipping. (Most printed houses still need roofing supplies, though.) Thick cement walls are cool in the summer, too. This makes printed homes prime candidates for low-energy living. The few people who now live in printed houses claim that they've fallen in love with them. Printed walls have a roundness and irregular, contoured texture. It feels organic and flows like a design feature.
Challenges For The Future of a 3D Printed Home
     Before you run out to commission a printed house, remember that this is a new technology! While progress is very exciting, there are still some bugs in the technology. For one thing, house printers are expensive and hard to find. Construction costs may be low, but the contractor would still need to pay off their $800,000 printer! This could drive costs up. Because there are few building codes for house printing, many builders don't want to try. They don't want to make an ignorant mistake and incur regulatory fines. That means you may have trouble finding a house printing company to meet your needs for the moment.
     Some contractors also aren't thrilled that a machine could take their commissions away. This may be part of why that business sector has been slow to adopt this new idea. News outlets have lauded printed homes as a fix for the affordable housing crunch. But consumers who might want to try a cheaper printed home may not want to live in a building reminiscent of a cave. But house printing is also new. Its story is only beginning, and over time, it may become a reliable home ownership option.
It's Already Happening
     Despite the challenges involved, people worldwide are living in printed houses. Tim Shea, who used to be homeless, became one of the first people to move into a printed house in 2021. Two retired shopkeepers from Amsterdam also live full-time in a printed house. The Ramdani family of Nantes, France, has everyone beat: they've been living in a printed house since 2018! House printing may have a bright future. It could provide a good solution to everyone's need to find an affordable home.
You Might Like – The Growing Robotic Workforce