We may earn money or products from the companies mentioned in this post.

Tech Support for Seniors: How Technology is Helping Older Adults Connect with Loved Ones
     As we grow older, staying connected with our loved ones becomes increasingly challenging. Physical limitations, health issues, and social isolation can make it difficult for seniors to maintain strong relationships with family and friends.  According to a study by Pew Research Center, 73% of adults aged 50-64 and 53% of adults aged 65 and older reported using the internet in 2021. This highlights the growing trend of older adults using technology to stay connected with their loved ones.  Additionally, the study found that the use of technology among older adults increased significantly during the COVID-19 pandemic, as many turned to technology for virtual communication and socialization. This shows there is a great need in tech support for seniors.
     In this blog, we'll explore the many ways technology is revolutionizing tech support for seniors the way they stay connected with their loved ones. We'll delve into the latest innovations, including video chatting, social media, smart home devices, and wearable technology, and examine the numerous benefits they provide.  Additionally, we'll provide helpful tips and resources for seniors who may be new to using technology, including how-to guides and recommendations for user-friendly devices and apps. By embracing technology and staying connected, older adults can enjoy a sense of connection, support, and community, promoting overall well-being and happiness.
Benefits of Staying Connected
     Staying connected with loved ones has numerous benefits, especially for older adults. It can reduce feelings of isolation and loneliness, which are common among seniors, particularly those who live alone.  Regular communication with loved ones can also improve mental health and well-being, helping older adults feel happier and more fulfilled. Furthermore, staying connected can promote better physical health by reducing stress and anxiety levels.
Video Chatting
     One of the most popular ways technology is helping older adults stay connected is through video chatting. Apps such as Zoom, Skype, and FaceTime allow family and friends to see and speak with each other in real time, regardless of their location. Families that live far away from each other or who have busy schedules can particularly benefit from the face-to-face communication offered by video chatting.  A connection can be difficult to achieve merely through phone calls and text messages. Being able to see your loved one's face provides a sense of closeness and connection that helps to alleviate feelings of loneliness. Sometimes you just need to see a smile! Some seniors who are not comfortable with smartphones or laptops may find video chatting challenging. In such cases, caregivers can help older adults use devices with large screens, making it easier for them to see and hear their loved ones.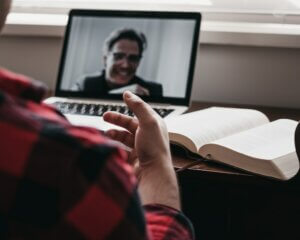 Social Media
     Staying in touch with loved ones has become easier thanks to social media platforms like Facebook, Instagram, and Twitter. Sharing updates, pictures, and videos with friends and family members is easy on these platforms, even if they live miles apart.  Seniors can use social media to keep up with their children, grandchildren, and other loved ones, seeing what they're up to and staying informed about their lives. Social media can also help seniors connect with other like-minded individuals and find new friends and social groups. A significant advantage provided by social media is giving seniors the ability to join online groups or communities that share their interests or hobbies. For example, there are several online groups dedicated to gardening, art, travel, and fitness, where seniors can interact with others who share similar interests.
Smart Home Devices
     As technology advances, smart home devices are becoming very popular choices for older adults due to their ease of use. These devices can perform many features that help to make daily life more convenient, such as setting appointment reminders, making calls, and answering questions.  Not only that, but they can be used to control various smart home features such as lights, thermostats, and security systems, enabling seniors to live more independently. The devices also offer an excellent means of communication, allowing seniors to more easily connect with loved ones through video or voice calls.
A few examples of smart home devices that can be used to stay connected are:
Google Nest Hub Max

: This device has a built-in camera and a large screen, making it ideal for video calls. It also has Google Assistant, which can be used to control other smart home devices.

Amazon Echo Show

: This device has a large screen and a great camera, making it easy to connect with loved ones through video calls. It also has Alexa, which can be used to play music, set reminders, and control smart home devices.

Facebook Portal

: This device is designed for video chatting and has a built-in camera that follows you around the room. It also has Alexa, which can be used to play music, make calls, and control smart home devices.
Wearable Technology
      Wearable technology, such as smartwatches and fitness trackers, can also help older adults stay connected with loved ones. Many of these devices have built-in messaging and calling features, allowing seniors to stay in touch with family and friends while on the go. Wearable technology can be used to monitor health and fitness levels, providing valuable information to seniors and their caregivers. Additionally, many smartwatches and fitness trackers have life-saving emergency features, such as fall detection and SOS alerts.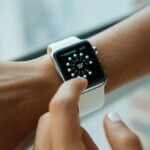 Helpful Tips for Seniors
For older adults who may be new to using technology, getting started can be challenging. Here are some helpful tips for seniors who want to stay connected with loved ones using technology:
Start with a user-friendly device

: When selecting a device, choose one designed to be user-friendly and easy to use. Look for devices with simple interfaces, clear instructions, and intuitive controls.

Learn at your own pace

: Don't be intimidated by technology – take your time and learn at your own pace. Start with basic features and gradually work your way up to more advanced functions.

Ask for help

: Family members or friends are there to help you, so don't be afraid to ask for help if you're having trouble with an app or device. Many younger family members are tech-savvy and will be happy to assist in teaching older adults how to use technology.

Attend technology classes

: Many senior centers and community centers offer classes on how to use technology. These classes can be a great way to learn new skills and meet other seniors who are also interested in technology.

Stay safe online

: It's important for seniors to be aware of online safety and security risks. This includes using strong passwords, avoiding suspicious links, and being cautious when sharing personal information online.
Conclusion
Technology is transforming the way we communicate and helping older adults stay connected with loved ones in new and exciting ways. From video chatting and social media to smart home devices and wearable technology, there are many options available to help seniors stay connected with their family and friends. While getting started with technology can be challenging, the benefits of staying connected are numerous and can have a significant impact on seniors' mental and physical well-being. By taking advantage of the latest innovations and helpful tips for seniors, older adults can stay connected with their loved ones and enjoy a better quality of life.
You Might Also Like – 8 Benefits of Healthcare Apps